A BASEBALL STORY
It was a delightful spring day in New Jersey. The year was 1943 and East Paterson was playing Ramsey High. The Ramsey coach was not satisfied the way the game was going and signaled to a fifteen year old kid on the bench and told him to go in and play right field. The rookie jumped to his feet and took his spot out where the daisies grow. This was his chance and he wanted to make the most of it.
Home plate seemed far away as the kid pounded his glove waiting for something exciting to happen. He saw a black player, batting lefty, step up to the plate. The first two pitches were wide and the count was 2-0. The Ramsey pitcher reared back and hurled his very best fast ball at the batter. A sharp crack of the bat was heard and the ball was lined in the direction of right field. The rookie, initially immobilized, belatedly ran back but the batter had struck a prodigious blow. The ball flew over the kid's head; it was a home run.
The final score was East Paterson 10, Ramsey 4. Larry Doby was the batter.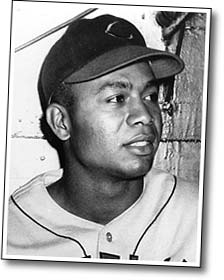 ------------------------------------------------------------------
The New York Times and other leading newspapers carried stories last week about the death at age 79 of Larry Doby, who, after graduating from East Paterson High, went on to become a great baseball player and starred for the Cleveland Indians. A quiet man, not as flamboyant as Jackie Robinson, he was the first man of his color to play in the American League and after his retirement was voted into the Baseball Hall of Fame in Cooperstown.
The fellow who from his position in right field witnessed first hand Larry Doby's athleticism was Vince O'Neil. Vince has not as yet been elected into the Hall of Fame.