THE PASSING OF A MEMORABLE TELEVISION PERSONALITY
Jack Parr died this past week at the age of 85. He was a whimsical, gentle and insightful man who brought out the best in television from 1957 to 1962.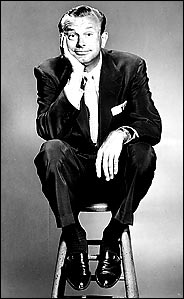 Our daughter Carol was born in 1959. Virtually every weekday night of Carol's young life, she was fed or rocked to sleep as my wife and I enjoyed Jack and his wide array of guests. Our favorite was Jonathan Winters who with his wildly spontaneous brand of comedy created so many unforgetable characters.
Unlike the comics of today, Jack's wit did not depend upon smut or cruel personal ridicule. Those of us who were fortunate enough to be among his viewers will remember Jack Parr for the pleasure he gave us, We respect him, not only for his special talent, but for his underlying sense of decency.